Roof Cleaning Stevenage, Hertfordshire
Roof Cleaning services covering Stevenage and Hertfordshire
Roof Cleaning Service
Cleaner Gutters specialise in all aspects of roof cleaning including the removal of moss and algae from roofs of all types of residential and commercial properties. If moss, algae & lichen are left untreated they can cause structural problems to your roof and can also look unsightly. Damage to roof tiles, caused by not maintaining your roof can lead to the blocking of your gutters creating further problems down the line.
Our roof cleaning service is available to residential and commercial customers in Stevenage and throughout Hertfordshire. Professional roof cleaning can help save you huge repair bills over time. Our roof cleaning service greatly reduces the risk of expensive roof repair and also improves the value and appearance of your property.
If you are looking for a reputable roof cleaning company in Stevenage or anywhere within Hertfordshire, we can help. We are a highly professional exterior cleaning company who excel when it comes to cleaning roofs.
Get in touch with us today at Cleaner Gutters in Stevenage for a no-obligation roof cleaning quote. We are always on hand to take your call. Ring 0800 772 0037. If you would prefer to drop us a message, simply fill in our online contact form and we will get right back to you.
Environmentally Friendly Roof Cleaning
When cleaning roofs for our customers we always make sure the cleaning solutions we use are environmentally friendly. We also make sure we follow strict safety guidelines to ensure we work safely, especially as roof cleaning requires us to work at height.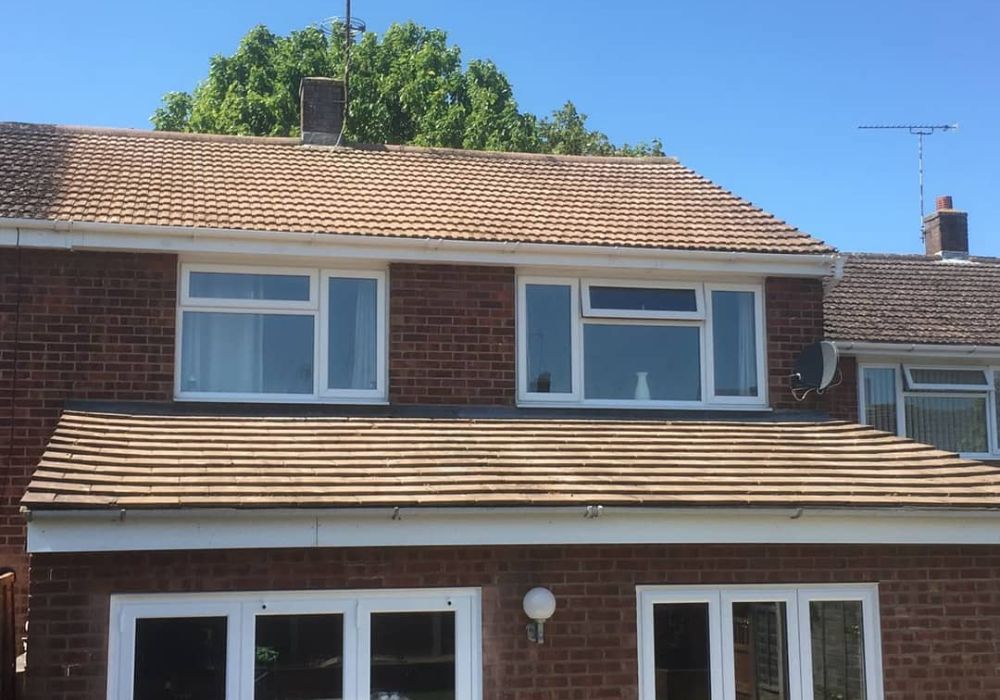 Read some of our Google reviews below...
Cleaned both my roof and gutters of the moss and the muck that ended up making a mess of my front and back yard. He did an excellent job by bringing back the original reddish roof colour making the house look as good as new.
Mohib Abdul-Rahman
11:09 10 May 19
Booked Mark to clean gutters, soffits and windows. Great service; prompt, friendly, helpful and thorough. Will definitely be using him again.
Hannah Holland
06:20 08 Apr 19
Had a very pleasant experience with Mark when he restored my driveway to a pristine condition. Very pleasant to deal with, reachable on the phone, and very professional. Pricing too is affordable. Thanks!
femi odulaja
16:34 27 Mar 19
Mark and his team did an absolutely fantastic job in transforming my ugly patio into something spectacular. It looks like a brand new patio now and I would not have thought it possible! They were so friendly and professional and very thorough. I would highly recommend Clean Gutters. Thank you so much
sue marchini
12:13 21 Mar 19
Mark cleaned my cladding and it was spotless. He returned after it had dried and applied a biocide treatment to slow down the return of any algae and moss.It's good to see an honest tradesman that turns up on time and does exactly what he says he will do. It was also very handy that I could pay using his chip and pin card machine.Safe to say I'll be using Mark again, next time will be to clean my gutters and windows.
Ed Wright
18:58 11 Mar 19
Professional service , reasonable price and really good quality work. highly recommend
Ahmad Chaudhary
14:39 03 Mar 19
Brilliant service!!! Mark cleaned our gutters and fixed them where needed. No mess was left behind unlike previous gutter cleaners I have used. I would definitely recommend Mark for anyone looking to have their gutters cleaned.
Fiona Field
10:59 23 Feb 19
Mark did a great job. Called him regarding a quote and an hour later he was at the door completing the work. Efficient and friendly, would recommend highly.
I found that climbing up ladders to clean windows was getting too much for me.I called in Cleaner Gutters to clean the gutters,fascias,soffits and windows with a view to an ongoing regular window clean.I was most impressed with the service offered by Mark.All the work is carried out from ground level with extended vacuum pipes and wash brushes so there are no ladders to mark or damage window sills and cladding.The final rinse using demineralised water leaves a perfectly smear-free and run-free finish without the need to squeegee or wipe.I was amazed.I have never seen the windows this clear!Cleaner Gutters are definitely booked for regular visits.
peter howard
23:33 16 Jan 19
Outstanding service!!! Mark was fantastic and did a wonderful job! Can not recommend him enough!! We had our gutters done for the first time and our windows cleaned . Absolutely spotless.. makes our house look so much better . Also Mark was so lovely and was very good with our toddler running round . Will be using him again forsure!
Andri Goder
16:47 11 Jan 19
Highly recommend really pleased with the job. Will definatly be having the solar panels & conservatory roof cleaned in spring.Dec 2018 I've had the gutters redone today. Great efficient service. He did a great job battling the effects of the pigeons!
Lisa Waddingham
11:26 28 Dec 18
Great service, really helpful, prompt and done really good job. Many thanks to Mark for helping out at such short notice. Five star.
Steven Boreland
17:39 15 Dec 18
Prompt and efficient service. The guys are friendly and helpful. Cleaned out the gutters and fixed our problem . Helpfully explained what was wrong and showed us pictures of the drain. Highly recommend.
Becky Lewis
22:21 10 Dec 18
My slippy driveway is now lovely and clean (and no longer dangerous!). Swift efficient service and competitively priced. Thanks Mark!
Amanda Hepple
09:38 07 Dec 18
Greay service. Very reasonable price. No mess and highly professional. Highly recommend.
Eamonn Cox
16:45 22 Nov 18
Excellent, come out and fixed my gutter next day and prices very reasonable, highly recommend!
Richard Snuggs
16:30 23 Oct 18
Excellent service. Good price. Thank you Mark
Naomi Ford
10:02 08 Oct 18
Fab, speedy service and hugely friendly. Thank you for doing an excellent job!
Fiona Henson
21:17 05 Oct 18
Very quick and good service. Reasonably priced and Mark is a nice chap. Would highly recommend and will use again!
Holly Beauchamp
07:48 03 Oct 18
Brilliant efficient service. Lovely clean gutters, very reasonably priced. Will be using the service again. Highly recommended.
Amy Lloyd
07:16 08 Jun 18
Great service from Cleaner Gutters from start to finish. Really speedy service and at a reasonable cost too. Will definitely be using them again and would highly recommend to others. Thanks again Mark!!
Amy McNulty
19:34 07 Apr 18
Came to do the neighbours house and also did mine. Great job done on clearing and cleaning the gutters. Also, showed the work before during and after as had a camera attached to the equipment. 10/10
sharad khima
15:27 04 Apr 18
Called Clean Gutters on Saturday morning of Easter weekend due to a horrendous leak, by 4pm that day Mark had cleaned all my gutters plus fixed a joint precariously located over my conservatory. Fantastic friendly service, will definitely be using again. Thanks
Sam Jarvis
09:51 01 Apr 18
Brilliant service my gutters were full of leaves and even had a small bush growing out of the drainpipe !! Very impressed with how quick and safe the whole clean was , even had my soffits and windows done afterwards - great service from a lovely man thank you will happily recommend to all
Helen Cousins
16:17 21 Feb 18
Highly recommended, I have used Cleaner Gutters and recommended many times. Mark and his team provide a fantastic service 5⭐⭐⭐⭐⭐
Barry Wheeler
04:05 14 Feb 18
Great service, very thorough. They left no mess and a great result. I Would definitely recommend Mark in future.
andy morley
21:25 13 Feb 18
I am very pleased with the prompt, efficient service provided. I had my windows, gutters and fascia boards cleaned and they look great. I can definitely recommend.
Kathleen Nightingale
19:51 06 Feb 18
After hearing good reviews where i live about marks company Cleaner gutters, i decided to call him and i am pleased to say everything i heard was true, my gutters have never been cleaner, Thanks for the Great service and also Mark is a very friendly person to deal with :)
Leigh Hughes
14:58 22 Jan 18
‹
›
Read some of our Facebook reviews below...
High Quality Roof Cleaning Service
---
At Cleaner Gutters our roof cleaning is of the highest quality. Our roof cleaners in Stevenage have a huge amount of experience within the roof cleaning industry that has been gained over several years through the cleaning of roofs for residential and commercial customers in Stevenage and throughout Hertfordshire. If you are looking for a high-quality roof cleaning company get in touch with us today.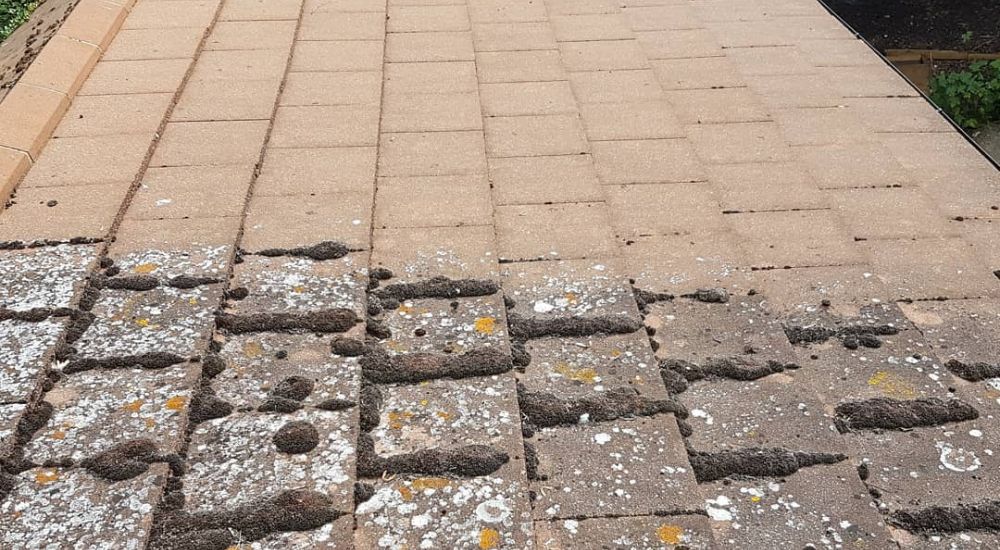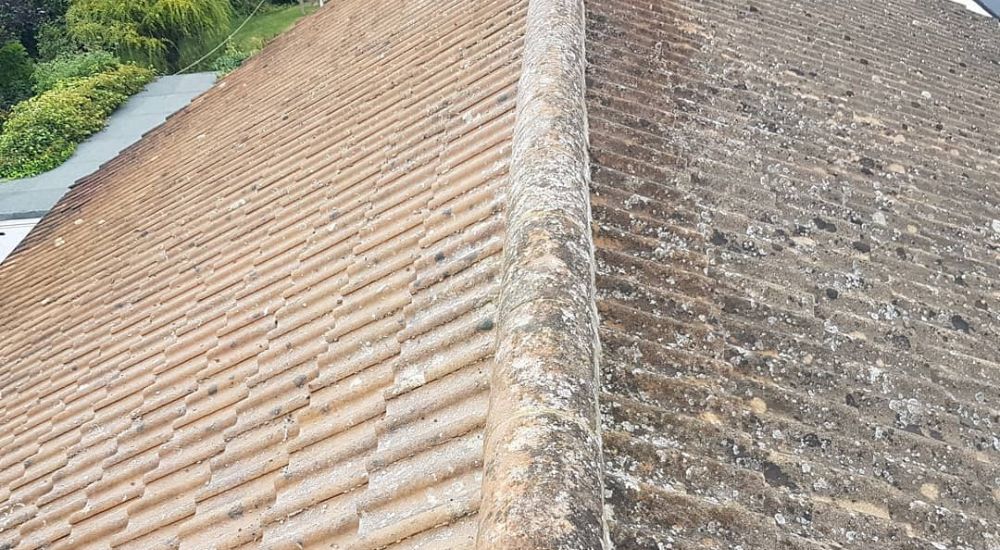 Exceptional Results Every Time
---
Are you looking for one of the best roof cleaning companies in Stevenage or Hertfordshire? Our roof cleaning team produce exceptional roof cleaning results every time for our customers and have been doing so for many years now. Our reputation for being one of the best roof cleaners in Stevenage and Hertfordshire is second to none and our results speak for themselves, with many customers coming back to us year after year for further exterior property cleaning.