Softwashing Stevenage, Hertfordshire
Softwashing services covering Stevenage and Hertfordshire
Softwashing Service
Cleaner Gutters are one of Stevenage's leading Softwashing providers. We are able to Softwash render, K-rend, buildings, roofs, walls and any other external hard surfaces you may have for both residential and commercial customers throughout Stevenage and Hertfordshire.
Softwashing has become the popular choice for many when cleaning buildings, render, K-rend, roof tiles, tarmac, concrete, decking and cladding due to the fantastic results it can achieve. When Softwashing, we are able to easily remove lichen, moss, algae, discolouration stains and any other organic matter and atmospheric pollutant that have built up over time on your hard surfaces.
A safe and effective low-pressure cleaning method, Softwashing is fast becoming the number one go-to exterior hard surface cleaning method and is used by Cleaner Gutters when cleaning both residential and commercial properties throughout Stevenage and Hertfordshire.
At Cleaner Gutters, we only ever use eco-friendly cleaning solutions. These are not harmful to the environment and are very effective when cleaning your hard surfaces. We are able to easily remove any dirt and grime that may have built-up over time on your property. Our Softwashing technique will eradicate 99% of all dirt, grime and organic matter and will keep working after we have left, for a long afterward, continually protecting your hard surfaces from organic pollutants. Because we use a potent algaecide, we are able to kill the lichen and moss that has accumulated on your property with ease.
Softwashing Specialists
Due to changes in the UK climate over the year, the winter months have become warmer and we are also experiencing more rainfall at the same time. This has meant that brickwork, rendered surfaces and other external surfaces have become a breeding ground for organic matter such as algae and moss. Making sure your building is treated and cleaned on a regular basis will help reduce the potential for extensive damage being caused to your property.
Cleaner Gutters are an experienced team of Softwashing technicians, with a huge amount of experience in the exterior cleaning industry. We offer Softwashing to commercial and residential properties throughout Hertfordshire.
Our Softwashing team are reliable and friendly at all times and follow strict safety laws to make sure they clean your property safely and effectively. All our team are fully trained in the use of any Softwashing equipment and cleaning solutions we use and are experienced in Softwashing commercial and residential properties.
If the exterior of your property is in need of a clean and you are looking for one of the best Softwashing companies around then look no further. Get in touch with us today on 0800 772 0037 for a site survey and a FREE no obligation quotation. If you would prefer to drop us a message then simply fill in our online contact form and one of our team will get right back to you.
Read some of our Google reviews below...
Booked Mark to clean gutters, soffits and windows. Great service; prompt, friendly, helpful and thorough. Will definitely be using him again.
Hannah Holland
06:20 08 Apr 19
Had a very pleasant experience with Mark when he restored my driveway to a pristine condition. Very pleasant to deal with, reachable on the phone, and very professional. Pricing too is affordable. Thanks!
femi odulaja
16:34 27 Mar 19
Mark and his team did an absolutely fantastic job in transforming my ugly patio into something spectacular. It looks like a brand new patio now and I would not have thought it possible! They were so friendly and professional and very thorough. I would highly recommend Clean Gutters. Thank you so much
sue marchini
12:13 21 Mar 19
Mark cleaned my cladding and it was spotless. He returned after it had dried and applied a biocide treatment to slow down the return of any algae and moss.It's good to see an honest tradesman that turns up on time and does exactly what he says he will do. It was also very handy that I could pay using his chip and pin card machine.Safe to say I'll be using Mark again, next time will be to clean my gutters and windows.
Ed Wright
18:58 11 Mar 19
Professional service , reasonable price and really good quality work. highly recommend
Ahmad Chaudhary
14:39 03 Mar 19
Brilliant service!!! Mark cleaned our gutters and fixed them where needed. No mess was left behind unlike previous gutter cleaners I have used. I would definitely recommend Mark for anyone looking to have their gutters cleaned.
Fiona Field
10:59 23 Feb 19
Mark did a great job. Called him regarding a quote and an hour later he was at the door completing the work. Efficient and friendly, would recommend highly.
I found that climbing up ladders to clean windows was getting too much for me.I called in Cleaner Gutters to clean the gutters,fascias,soffits and windows with a view to an ongoing regular window clean.I was most impressed with the service offered by Mark.All the work is carried out from ground level with extended vacuum pipes and wash brushes so there are no ladders to mark or damage window sills and cladding.The final rinse using demineralised water leaves a perfectly smear-free and run-free finish without the need to squeegee or wipe.I was amazed.I have never seen the windows this clear!Cleaner Gutters are definitely booked for regular visits.
peter howard
23:33 16 Jan 19
Outstanding service!!! Mark was fantastic and did a wonderful job! Can not recommend him enough!! We had our gutters done for the first time and our windows cleaned . Absolutely spotless.. makes our house look so much better . Also Mark was so lovely and was very good with our toddler running round . Will be using him again forsure!
Andri Goder
16:47 11 Jan 19
Highly recommend really pleased with the job. Will definatly be having the solar panels & conservatory roof cleaned in spring.Dec 2018 I've had the gutters redone today. Great efficient service. He did a great job battling the effects of the pigeons!
Lisa Waddingham
11:26 28 Dec 18
Great service, really helpful, prompt and done really good job. Many thanks to Mark for helping out at such short notice. Five star.
Steven Boreland
17:39 15 Dec 18
Prompt and efficient service. The guys are friendly and helpful. Cleaned out the gutters and fixed our problem . Helpfully explained what was wrong and showed us pictures of the drain. Highly recommend.
Becky Lewis
22:21 10 Dec 18
My slippy driveway is now lovely and clean (and no longer dangerous!). Swift efficient service and competitively priced. Thanks Mark!
Amanda Hepple
09:38 07 Dec 18
Greay service. Very reasonable price. No mess and highly professional. Highly recommend.
Eamonn Cox
16:45 22 Nov 18
Excellent, come out and fixed my gutter next day and prices very reasonable, highly recommend!
Richard Snuggs
16:30 23 Oct 18
Excellent service. Good price. Thank you Mark
Naomi Ford
10:02 08 Oct 18
Fab, speedy service and hugely friendly. Thank you for doing an excellent job!
Fiona Henson
21:17 05 Oct 18
Very quick and good service. Reasonably priced and Mark is a nice chap. Would highly recommend and will use again!
Holly Beauchamp
07:48 03 Oct 18
Brilliant efficient service. Lovely clean gutters, very reasonably priced. Will be using the service again. Highly recommended.
Amy Lloyd
07:16 08 Jun 18
Great service from Cleaner Gutters from start to finish. Really speedy service and at a reasonable cost too. Will definitely be using them again and would highly recommend to others. Thanks again Mark!!
Amy McNulty
19:34 07 Apr 18
Came to do the neighbours house and also did mine. Great job done on clearing and cleaning the gutters. Also, showed the work before during and after as had a camera attached to the equipment. 10/10
sharad khima
15:27 04 Apr 18
Called Clean Gutters on Saturday morning of Easter weekend due to a horrendous leak, by 4pm that day Mark had cleaned all my gutters plus fixed a joint precariously located over my conservatory. Fantastic friendly service, will definitely be using again. Thanks
Sam Jarvis
09:51 01 Apr 18
Brilliant service my gutters were full of leaves and even had a small bush growing out of the drainpipe !! Very impressed with how quick and safe the whole clean was , even had my soffits and windows done afterwards - great service from a lovely man thank you will happily recommend to all
Helen Cousins
16:17 21 Feb 18
Highly recommended, I have used Cleaner Gutters and recommended many times. Mark and his team provide a fantastic service 5⭐⭐⭐⭐⭐
Barry Wheeler
04:05 14 Feb 18
Great service, very thorough. They left no mess and a great result. I Would definitely recommend Mark in future.
andy morley
21:25 13 Feb 18
I am very pleased with the prompt, efficient service provided. I had my windows, gutters and fascia boards cleaned and they look great. I can definitely recommend.
Kathleen Nightingale
19:51 06 Feb 18
After hearing good reviews where i live about marks company Cleaner gutters, i decided to call him and i am pleased to say everything i heard was true, my gutters have never been cleaner, Thanks for the Great service and also Mark is a very friendly person to deal with :)
Leigh Hughes
14:58 22 Jan 18
‹
›
Read some of our Facebook reviews below...
High Quality Softwashing Service
---
At Cleaner Gutters, we only provide high quality Softwashing services. We have built up a strong reputation throughout Stevenage and Hertfordshire over the years and often get referrals from our happy customers. Our Softwashing technicians in Stevenage are timely, work to high standards, follow safety laws at all times and are friendly and approachable. We will work with the minimum of fuss and disruption to you and make sure all mess has been removed from your property before we leave.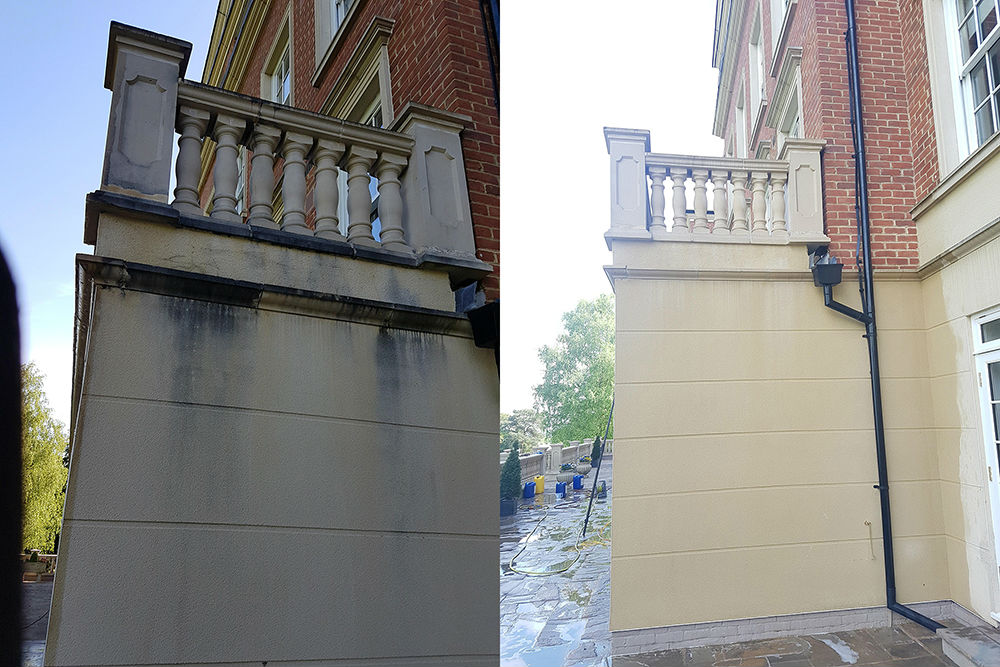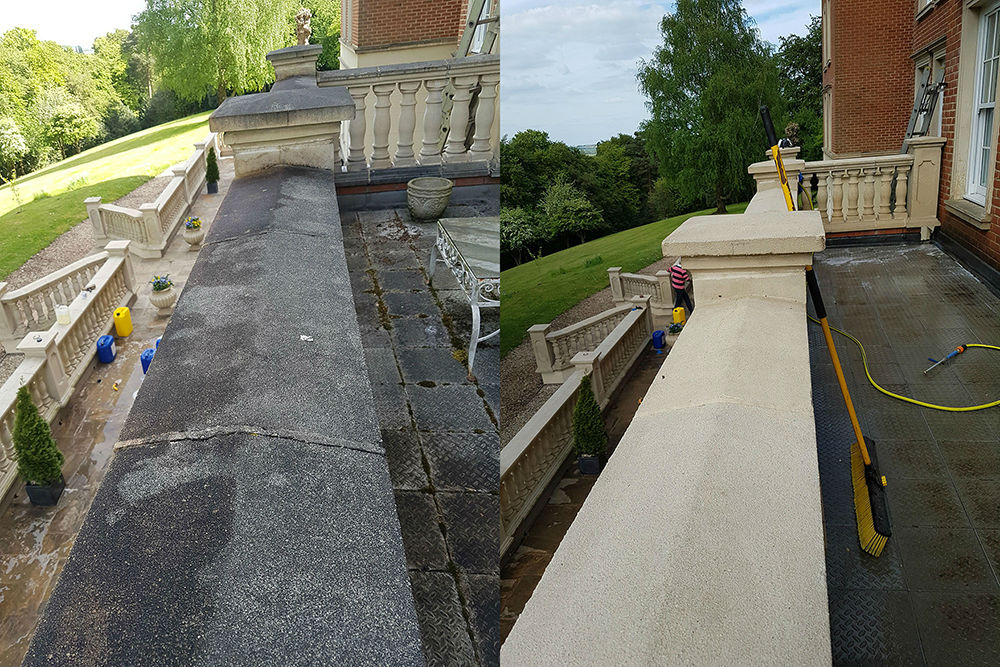 Exceptional Results Every Time
---
Our Softwashing technicians at Cleaner Gutters in Stevenage, Hertfordshire are fully trained in the use of all Softwashing equipment and have many years' experience of Softwashing for both residential and commercial customers throughout Hertfordshire. We produce exceptional results time after time and strive to ensure we do the very best we can for every single customer.